Are you searching for something extraordinary to do this spooky season? Look no further, as Toronto is never short of thrilling and exciting Halloween activities.
We are spoiled for choice in Toronto as the city quickly gets into the spirit! Today, every residence and business is trying to outdo each other for their Halloween displays and events. That means there are some excellent Halloween activities in Toronto to attend, each as spooky and scary as the next.
5 Must-Try Spooky Halloween Activities in Toronto
Here are the five best Halloween activities in Toronto that will surely give you chills and leave a lasting memory!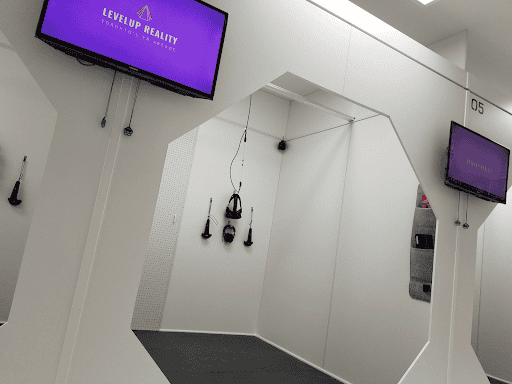 Date:All year-round
Location:124 Church St., 3rd Floor of McVeigh's Irish Pub, Downtown Toronto
Price:
Monday to Friday: $34.99 per player (12.5% off)
Saturday to Sunday: $39.99 per player
*Includes 1 hour of VR gaming. Discounts apply for group bookings.
Description:
Are you feeling excited by the thought of experiencing a horror-filled virtual reality universe? Levelup Reality is here to offer just what you need! With their immersive virtual reality (VR) gaming experiences, you can be right in the middle of all the scares!
Propagation VR, one of their latest games, will get your blood rushing and adrenaline pumping as you try to survive an intense zombie apocalypse brought on by an unknown virus. Armed only with your guns and your fists, fight off waves of terrifying zombies and other multi-species mutants. As a pro tip, study the monsters for weaknesses and overcome your fears if you want to make it to the end.
Forewarned, an ancient Egyptian co-op survival horror, lets you gear up and delve deep into the cursed ancient Egyptian ruins with your team of fellow archaeologists. Explore your surroundings, gather wealth, learn legends, and fight off the evil that resides within. Each playthrough includes one main relic to collect, archaeological tasks to complete, and loot to collect in the form of gold, lore, and rare artifacts.
Affected The Manor is a VR game that has been commended as one of the best virtual reality experiences to date and thus far has over 200 million YouTube hits and countless features worldwide. This game is a series of unfolding events and environments specifically designed to utilize the strengths of virtual reality. With a choice of two routes and four alternate endings, the horror never ends in this game!
No need to watch films to feel the Halloween spirit anymore – Levelup Reality has got you covered! Their scary virtual reality universes will take you right into the heart of horror. You'll feel like you're right on set, experiencing all of the suspense and terror for yourself.
The biggest question is: Will you make it out alive?
Experience Undeniable Fear at The Howland Inn Seance
Date: September 30 to November 26, 2022
Location: Lambton Park, 4020 Dundas Street West, Toronto
Price:$66.66
Description:
Are you ready for an unforgettable experience to celebrate Halloween? Jaymes has invited groups of 16-18 guests to a chilling recreation of an authentic Victorian Séance. With dark, spooky music playing in the background and your group sitting around the table, you'll experience undeniable fear in this Toronto Halloween activity. This soul-shaking psychological experience is not intended for the weak or faint of heart – so be prepared to be scared out of your mind!
Date: October 29th at 2 pm; October 30th at either 11 am or 2 pm
Location: Toronto Necropolis Cemetery, 200 Winchester Street, Toronto
Price: Free
Description:
What's more creepy than a murder and mystery tour in a cemetery? With stories of stolen identities, unsolved murders, and Toronto's last public hanging – Murder and Mayhem is one Halloween event you won't want to miss.
Survive Zombie Apocalypse
Date: October 13 – November 5 2022 | 6 pm – LATE
Location: 175 Kendal Ave, Toronto
Price: $40 to $50
Description:
Pharma giant Biolux has announced its newest wonder drug: the Biolux Serum. This all-in-one solution to aging and disease promises to keep you healthy and free from sickness or death. And while the claim might be true, there's a dark side to it – you'll become a zombie for this to happen!
From October to November, step into the Biolux pharmaceutical facility and see how well you fare in ZOMBIE APOCALYPSE – Toronto's newest and largest zombie-themed haunted house.
Throughout this 45-minute Halloween haunt, you will step into the Biolux showrooms, only to find yourself in the labs—full of ghastly experiments and demented scientists. You'll then explore the camps, where the last of humanity is desperately trying to survive a zombie apocalypse.
Date: September 30 to October 31, 2022; Friday & Saturday 6:00pm to 11pm, Sundays 6:00pm to 10 pm
Location: 23 Consumers Drive, Whitby, Greater Toronto Area
Price: $14.99
Description:
Are you ready to experience Toronto's most horrifying hallways? At Horror Hallways, you'll enter the depths of hell and explore a terrifying, seemingly never-ending maze. Their haunted Halloween activity features a wide range of insane horrors that will get your adrenaline pumping!
Be prepared for chills down your spine as you venture into their dark underworld while they challenge you to explore their devil's work and try to escape their demons.
Prepare For A Thrill This Halloween In Toronto
Here are the five best Halloween activities in Toronto that will surely give you chills and leave a lasting memory!