When it comes to the best things to do in Toronto with kids, the choices are endless. And with so many activities and experiences to choose from, it can be a challenge to pick which ones are best for you and your family.
Luckily, we've done our best to compile an extensive list of the best things to do in Toronto – perfect if you're looking for some exciting activities and outdoor recreation that are sure to entertain you and your family.
15 Things To Do In Toronto With Kids You Need To Try
Here are the things to do in Toronto for families for your next trip!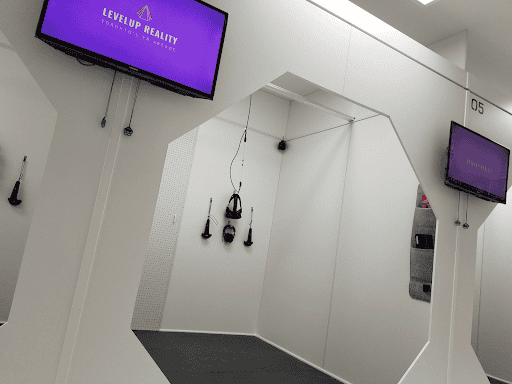 Level Up VR Arcade is a virtual reality game center that lets you experience video games in real life. Just like an arcade machine, you could spend hours playing on their VR headsets and feeling the thrill of high-quality games! From kids to adults, it promises to cater to everyone's play style with a wide variety of experiences within its library of video games.
Let your whole family experience virtual reality like no other!
Whether they're into battling zombies to action-thriller games, there's a game that would best suit each member of the family! And no kid would even say no to video games, right?
Check out more details here: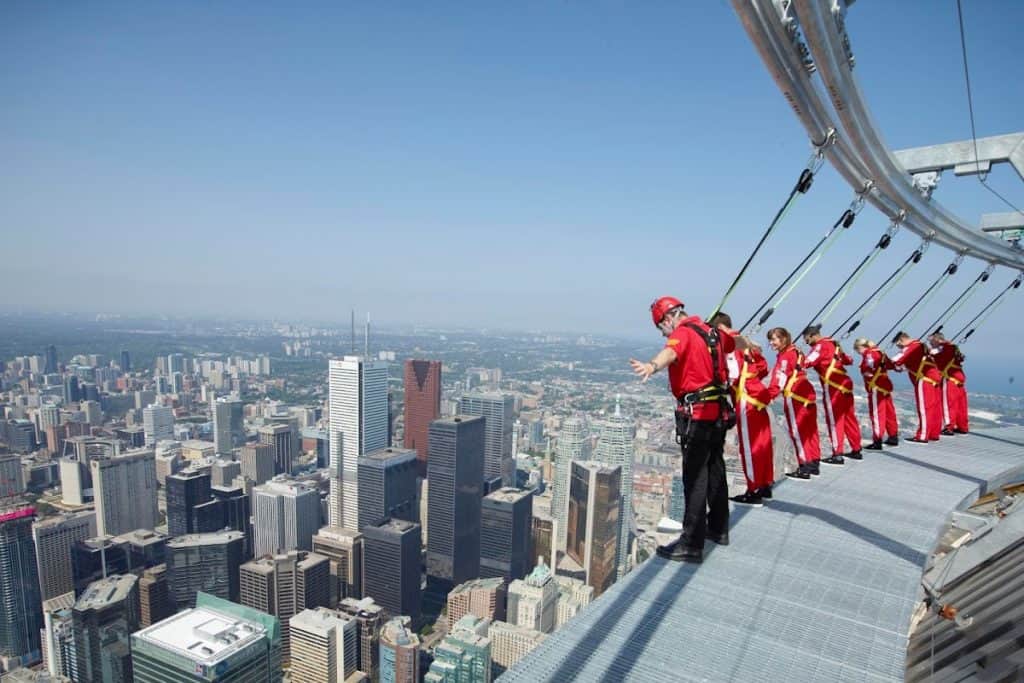 The CN Tower has everything a kid wants — great amenities, upscale views, amusement park rides, and of course, good food!
Only in Toronto do you find the CN Tower's elevator – a glass-enclosed structure that takes you and your kids 80 meters up to the top. From there they can look out over the city, enjoy the fresh air and take great pictures via the large windows. After all that fun, your family can get a meal at 360 Restaurant, located on the restaurant level. Basically, it's one of those places where everyone *is* happy!
Centreville Amusement Park is a nostalgic amusement park on Centre Island. It has a well-known 90s theme with 90s rides like the ferris wheel and carousel, a Jurassic Park-themed restaurant, and even soft ice cream treats and frozen juices. The ferry ride from the mainland to the island is relaxing, and children love stomping up the miniature hills.
Upon entering the playground, you'll see that Centre Island isn't just a place for kids– the renovated park is also the perfect place to take young ones on an afternoon adventure. With wide lawns and tree-lined paths, the park always feels green, but it's really there for all ages. During this season, children can wade in its 85-meter-long pool and play basketball or Frisbee games, while parents can enjoy panoramic views of Lake Ontario from Centennial Beach. The amusement portion of Centre Island is open from May 15th until October 15th, and during the summer months over a dozen times each day ferries arrive from Toronto Harbour at Queen's Quay Terminal at 1 AM.
When it comes to hands-on learning, The Ontario Science Centre is one of the best. With a collection of interactive exhibitions, an exhibit hall full of fun things to do, and plenty of chances to learn something new or immerse yourself in other cultures, this museum will provide your kids with endless hours of fun and learning.
Inside its many locations across the province, there's a virtual reality experience for every family member — including dinosaur displays for kids who want to get up close and personal with our ancestors.
For every age, there's a reason to learn and explore. From toddlers with an interest in anything that floats to preschoolers who are looking for kid-friendly tours of the city, local attractions provide something for everyone. Take your children on a tour at Ripley's Aquarium of Canada where they can touch living animals behind the scenes and witness different species of fish from all over the world.
In recent years, Toronto has become known as a hot spot for aquariums and nature trails, especially to the younger crowd. If you are interested in seeing an up-close look into Canada's amazing natural wonders, then Ripley's Aquarium of Canada is for you! There are loads of different types of animals and creatures to see which will have your little one asking questions all day long.
Toronto Zoo, one of the best zoos in North America, is an outstanding destination for a family trip. With 1,800 acres and 180 species, this zoo is home to over 5,000 different animals from all over the world. It has three African environments: The Gorilla Forest, where you can see a large male and female gorilla up close; Land of the Pygmy Elephants; and The Park for Rhinos and Antelopes.
Toronto Zoo also boasts fun interactive exhibits such as Plant Wonderland Canada (a great place to learn about edible plants in Canada), and Australia Discovery Centre where kids get to explore native Australian animals with face painting, games, and activities that teach them survival skills, and Butterfly Garden (where they can make friends with some butterflies; it's recommended to wear closed toe shoes).
Each site in this zoo has been designed with one singular focus: a vibrant world of living wildlife that engages, educates, and informs its visitors in such a way that they leave the zoo inspired to learn more about the animal kingdom as everyday life – with our special take on education and conservation.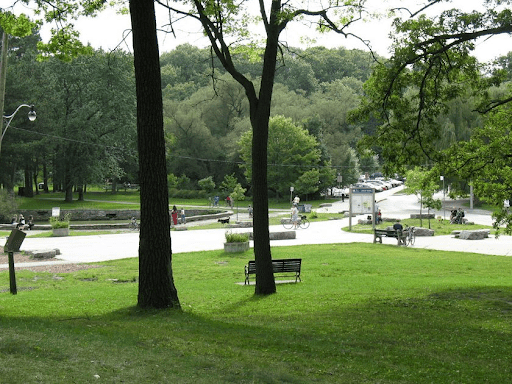 Toronto's High Park is a beautiful, expansive park with a lot to offer for families. It has a variety of kid-friendly exhibits and activities such as miniature golf and four hundred acres to explore.
The most popular attraction at High Park is its large playground. A perfect spot for children, it lets them grow and explore on their own accord while also providing supervision where necessary. When the weather starts flowing with raindrops and blooms start emerging from the trees, High Park becomes an oasis for visitors hoping to catch a glimpse of spring's cherry blossom beauty before they turn in for the season.
The Royal Ontario Museum is a world-class attraction with original, interactive exhibits for each member of the family. Kids will have fun exploring the discovery gallery, which brings extinct animals, human beings, and cultures from all around the globe to life in vivid details you can touch and explore.
With a residence that looks as if it were constructed by visiting aliens, the Royal Ontario Museum is something you'll never forget. The collection of dinosaur bones in this museum will keep even the smallest of children intrigued for hours upon hours. Other interactive exhibits are great for all ages, whether bringing the family for a nice workday outing or if you're visiting on vacation and want to see downtown Toronto's best highlights.
If you and your kids are up for some historical places, then Casa Loma is the place to go.
The Casa Loma is a magnificent historical site that has a bit of Western gothic flair Located on the west shore of the Ottawa River, it has been in operation as a museum and heritage site since 1857. The first floors provide visitors with picturesque views from the reception and garden rooms, as light pours through Gothic arches—making for a picture-perfect setting.
Once above-ground, be sure to wander old wood and glass staircases leading up to the castle's 3rd floor, which houses an exhibit showcasing Canada's darkest times during depression and prohibition among other questionable historical moments.
The Kensington Market is one of the most colorful and edgy neighborhoods in Toronto for family activities. With all the things you can get there, no matter your age or interests, everyone in your family will surely be able to find something they enjoy. Since it's a neighborhood market, it offers the best selection of everything from food to clothes to handbags and accessories.
Built in 1894 over the bones of illegal gambling halls, this area is a haven for artists, stoners, and hipsters. The area is known as one of the coolest places to hang out where every genre can coexist. The street art that adorns walls and storefronts has turned this market into a cultural hub for all interest groups — from graffiti artists to free-thinkers and everyone in between.
Toronto Island's beautiful parks are ideal for active families — whether it be a day spent camping, lounging in the park, or visiting an aquatic attraction. With playgrounds and picnic areas at hand, residents of this city don't ever have to worry about low-budget fun and entertainment.
Its waterfront parks feature splash pads, jungle gyms, and trails for active kids to get that energy out. Plus, most of Toronto's parks feature splash pads and other great activities like yoga, soccer, and cycling … all at your door within walking distance.
Or if you're looking for a quiet place to relax, you need to visit the beaches of Lake Ontario and explore its stunning nature.
LEGOLAND Discovery Centre Toronto is a scaled-down replica of the LEGO tourist attraction that helps kids let their imaginations run wild. It's an ideal attraction for families and features a diverse array of things to do, including rides, a movie theater, and plenty of legos — not only is it one of the rarest LEGO stores in the city but there are also some even rarer pieces here.
The LEGOLAND Discovery Centre Toronto offers parents their own little escape from the mounting chaos of children. The 4-D movie theatre and 10 different open play areas provide families a space to safely explore natural instincts and inner child without feeling like they're trapped in a mall.
Overall, the entire place was created to allow families and kids to immerse themselves in a fictional world full of amazing attractions, adventure, and fun.
Black Creek Pioneer Village is a living family history museum that will place your kids right in the year 1800. Explore authentic recreations of buildings, including US Governmental buildings and museums, residential homes, and a working grist mill. Black Creek's exhibits will allow your kids to fulfill their need for adventure while learning about the past.
At Black Creek Pioneer Village, you can experience a living history day in a way no other location can offer: the memories will last long after leaving this unique attraction. The juxtaposition of modern-day buildings with a bluegrass festival and farmers market on one side and the original blacksmith shops and homesteads on the other are a bonus that allows kids to imagine what it would've been like to live in rural pioneer times (and get some fresh air while they play).
With interactive exhibits for kids of all ages, your family is sure to be entertained for hours on end. Nothing will bring out the pioneer in your kid like this museum — and for that reason alone it's a must-see!
As a family, you may have looked forward to going to the Art Gallery of Ontario for some time now. The museum is beautiful, and it has everything from artwork to oil paintings to contemporary reflections on art. If you're looking for cheap family fun, the gallery has a collection of more than 90,000 works that range from old masters to modern pieces.
One of the best things to do in Toronto with kids is to visit the Rogers Centre. Without a doubt, it's one of the most iconic buildings in Canada, and this attraction holds all kinds of events: concerts, family-friendly activities, and other attractions for every member of your gigantic family. Famous for its retractable roof, this incredible facility has something for everyone.
As a noted sports stadium, Rogers Centre is home to the Toronto Blue Jays, the Toronto Argonauts, and other professional sports events. It has all the activities your kids can engage in while visiting this attraction.
The Rogers Centre Tour is a great way to show kids the stadium while they are visiting and getting excited about the Toronto Blue Jays. It also makes them understand how important it is that this incredible sports venue is home to some of the biggest concerts in Canada, making it worth joining them on their tour.