What are the fun activities in Toronto for adults that you can do in your free time? With so many fun Toronto activities to choose from, we've created a list of our picks for the best things to do in the city – all-inclusive, engaging, and entertaining.
Toronto's cultural diversity isn't just limited to race, but it is also seen in the many activities that people do on a daily basis.  And the glory of this fine Canadian city is that you're not going to be short of things to pursue.
Image Source: Pexels
From mouth-watering restaurants to immersive experiences, you couldn't find the time to visit them all. As marvelous as it is to have all these options, it can be challenging to filter down what would be the most fun for you or your group.
Whatever type of activity you're into, there are various fun activities in Toronto for adults that you can pursue during your free time. And although it is impossible to list every single one of them, we've done our best to create a comprehensive guide that covers the city; we're confident you'll find something here to suit your personal tastes.
Fun Toronto Activities That Everybody Will Love
Here are the best downtown Toronto activities you wouldn't want to miss!
If you're a gamer looking for an escape, look no further than Level Up Virtual Reality, the best VR arcade bar in Toronto!
Featuring over 80 virtual reality games, this arcade will transport you into new worlds with its futuristic gaming technology, allowing you to get lost in a new dimension of your chosen video game.
Levelup is the premier destination for friends and families looking to immerse themselves in a world of gaming. With its diverse portfolio of games, Levelup Virtual Reality has something for everyone, regardless of your gaming preferences or skill level.
In addition to their already great arcade setup, they also have a wide range of food and drink options while you play, making your visit more than just a regular gaming experience.
Nothing beats an underwater adventure: the excitement of exploring the unknown, the beauty of marine life, and the satisfaction of solving a great mystery are only some of its many charms.
And this is where Ripleys Aquarium of Canada comes in, boasting an impressive display of the ocean's creatures for both locals and tourists alike. Over 450 species of sea life can be found here – including ancient fossils and Canadian wildlife.
Image Source: Ripley's Aquarium of Canada Google Business Photos ) Sahil Saini
The aquarium offers guests a chance to explore the deepest regions of the ocean, learn about creatures that still have scientists scratching their heads, and gaze upon beautiful coral reefs through the massive underwater windows.
As one of the most extraordinary aquariums in North America, Ripleys Aquarium will surely leave visitors reeling as they watch life unfold in the tanks.
What comes to mind when you think of Toronto? It probably wouldn't be a surprise if someone said hockey. And with hockey comes the Hockey Hall of Fame, the most visited Toronto attraction for sports fans.
The museum is an absolute must-see for hockey fans. It's home to the world's largest collection of hockey artifacts and memorabilia, as well as interactive exhibits and galleries that look back on the game's history and its greatest players.
Image Source: Hockey Hall of Fame Google Business Photos
Toronto has a storied hockey heritage, and the Hockey Hall of Fame offers a look back at this history. The museum is on the same grounds as the Air Canada Centre (where the Toronto Maple Leafs play) – so you can combine your visit with a trip to a hockey game.
If you love hockey, then you're going to love this spot. Only in Toronto will you find this national treasure!
Want a whole new interactive and scientific experience when visiting Toronto? Then Ontario Science Centre is for you! Whether you're a geek or not, the Ontario Science Centre is a must-see attraction that will leave you amazed all throughout your stay.
It is a staple of downtown Toronto experiences, providing visitors with an engaging way to better understand the world around them. Explore fascinating exhibitions, interactive displays, and a captivating IMAX theater. Open your mind and let loose as you learn the science behind everyday occurrences. Wow yourself with the science behind some things you've taken for granted your whole life.
Image Source: Ontario Science Center Google Business Photos, Andrew Ma
The Ontario Science Centre is a place of wonder and excitement. From the moment you walk in, you're surrounded by incredible, interactive exhibits that let you experience science in a way you never have before. Come for the day and spend hours exploring everything from the physics behind sports to the biology of the human touch.
If you're visiting in October, catch the annual Harvest Show and check out all the food and crafts vendors who set up shop during this event.
If you're looking for a fun group activity, take your friends to Eaton Centre! As one of the most visited tourist destinations in Toronto, the Eaton Centre is a hub for the city's entertainment, shopping, and eating scene.
Image Source: CF Toronto Eaton Center Google Business Photos
There's a lot going on at the Eaton Centre. It is a monument to shopping in Greater Toronto Area, and it boasts some of the best stores in the city. Tall glass ceilings let sunlight stream in and make this mall an enjoyable place to shop during the day. At night, you can take your time strolling through the mall and enjoying its bubbly atmosphere – there is always something happening. There are also great restaurants and cafes that sell amazing food!
The Eaton Center is the place to go for energetic Toronto entertainment. There is something for everyone here, whether you are into fashion, gadgets, or food. If you want the ultimate shopping experience, then Eaton Center is for you!
Kensington Market is actually one of the city's most vibrant, eclectic neighborhoods. More than a market, it's an entertainment district full of culture, with its amazing restaurants, vintage boutiques, independent stores, and specialty food shops.
Image Source: Tripsavvy, Kristjan Veski
There are a lot of reasons to spend some time in the Kensington Market neighborhood, but a visit to Toronto wouldn't be complete without a stroll around the area. Beyond all the different types of food, there are also art galleries and vintage clothing stores all throughout the vicinity.
If you love photography, this is one of the best places to go – there's something interesting on every street corner of this place.
If you want to enjoy art, culture, and the natural world, there is no better place than the Royal Ontario Museum. This museum is home to a wide array of exhibitions – from fashion to dinosaurs to Egyptian artifacts. Whatever your interests are, you'll most likely find something to explore while visiting this stunning museum.
Not only does this museum encompass all of these exhibitions, but the way they present them is so fun and interesting. The museum has a strong focus on experiential learning, making it an ideal spot for learning that isn't quite as dry as traditional methods of instruction.
Royal Ontario Museum Art Gallery
Image Source: Royal Ontario Museum Google Business Photos, Aarick Zaman
The museum boasts a high number of repeat visitors, and its staff is dedicated to ensuring that they have a great time while they're there.
At Royal Ontario Museum, you'll find hands-on exhibits that make learning about ancient history or the natural world a total blast. Its art gallery is also considered one of a kind, and it's always a fun thing to immerse yourself in the world of arts while learning new concepts.
The Distillery District is a great place to visit if you want to get away from the usual Toronto attractions. This pedestrian-only district has more than enough to keep you occupied for hours – it's an entertainment district full of incredible restaurants, shops, and galleries.
Toronto's restored district features some of the continent's best-preserved Victorian architecture and has a real sense of old-world magic about it. It has a ton of charm that comes from its Victorian-era industrial architecture – you'll feel as though you've stepped back in time.
Image Source: The Distillery District Website
You won't find any franchises or chains here, and the stores and galleries are all one of a kind. This distinct feature of the Distillery District creates a unique shopping and dining experience unlike any other in Toronto. The district is also home to many art galleries, making it the perfect place for culture and creativity.
Toronto's Distillery District is the city's most fun place to be during the winter, especially in December. During this period, you can admire the historic architecture from a bygone era as you watch snowflakes fall to the ground.
St Lawrence Market is one of the Greater Toronto Area's most popular marketplaces – and with good reason: it has a great selection of vendors and features impressive architecture that makes the marketplace more than just a place to buy goods.
Image Source: St. Lawrence Market Google Business Photos, Stephen Kobus
It is a Toronto attraction that is home to many of the city's most beloved restaurants. The meat and cheese vendors are especially popular with locals and tourists alike, but it's also worthwhile to explore the other options – from produce to flowers and homemade goods.
However, there's more to it than just food! There are a number of other attractions within the building that draw visitors from near and far. It also features the Market Kitchen, a unique space that lets visitors take cooking classes or participate in special events that combine culinary experiences with the opportunity to shop for ingredients at the market.
For moviegoers out there, the TIFF Bell Lightbox is for you!
The TIFF Bell Lightbox is one of the most important buildings in Toronto. Boasting an enormous screen, state-of-the-art theatre seating, and a menu that can't be beaten – it's certainly not your average movie theater. It will completely redefine your movie theatre experience to the next level!
Image Source: TIFF Bell Lightbox Google Business Photos, David Weitzenfeld
It serves as the permanent home of the Toronto International Film Festival (TIFF) throughout the year, showing old classic films as well as new releases from some of the world's most acclaimed filmmakers. And if you're into seeing your favorite movie personalities, this place is also a hot spot for celebrities. TIFF has had its fair share of celebrities stop by over the years – like Sandra Bullock, Charlize Theron, and Tom Cruise.
Aside from being a powerhouse movie theatre hosting the Toronto International Film Festival, the TIFF Bell Lightbox is also a restaurant, a library, and an event space – a hub for all art-related industries.
Riverdale farm offers an experience that reconnects you with nature, helping you unwind from Toronto's hustle and bustle. It's unlike anything you've ever tried in the city: you can wander, play with the animals (totally on your own), and enjoy a bite to eat or a cup of coffee at their restaurant or cafe.
Image Source: Riverdale Farm Google Business Photos, Tamara Balazsovits
A charming country farm and heritage site located in the heart of Toronto, Riverdale Farm is packed with animals, green space, and other remnants of nostalgic Ontario life. While wandering the premises you can feel the gentle breeze caressing your skin. Enjoy the ambiance and get some fresh air!
Its fresh dairy and produce, such as eggs, cheese, and meat, are the perfect treat for you to bring home.
At Riverdale Farm, you can feel the wind blow under your umbrella on a sunny day as you watch cows, pigs, chickens and other animals graze for food. If you're lucky, you might even catch a glimpse of their calves! Overall, it's always a fun thing to visit Riverdale Farm if you would like to escape the city's busy life.
The CN Tower in downtown Toronto is one of the most popular landmarks not only in Canada but in North America.
CN Tower at Night ( Image Source: Unsplash )
It's a piece of architectural genius that's only got better with age: its glass floor panels allow you to peer down at the streets below as you walk around, and even the highest elevator takes you only halfway up – making for an exhilarating view.
The CN Tower is more than a monument – it's an experience. You won't see Toronto this way anywhere else.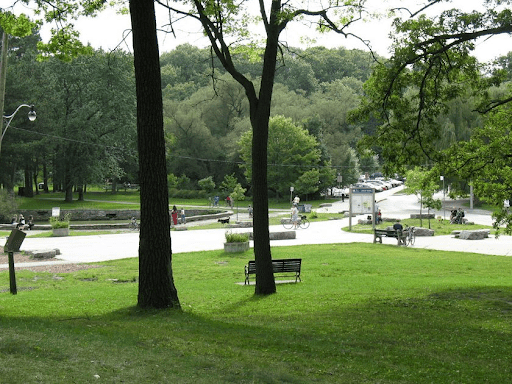 Image Source: High Park Toronto Website
What could be more Toronto than a trip to High Park? The vast green space is one of the city's most popular attractions, and it's easy to see why. With its lush landscapes, wide-open spaces, and diverse array of activities, a visit to High Park is the perfect way to spend an afternoon.
With over 825 acres of land at your disposal, there will never be a shortage of things to do: play sports, explore the zoo, relax in the picturesque gardens…the possibilities are endless!
Image Source: Casa Loma Instagram
Visiting Casa Loma is one of the best ways to spend an afternoon in Toronto. The castle-like attraction is located in the heart of Toronto and offers a wide range of activities. Whether you're interested in its stables, gardens, or Gothic Revival architecture, there's something for everyone!
With over 825 acres of land at your disposal, there will never be a shortage of things to do: play sports, explore the zoo, relax in the picturesque gardens…the possibilities are endless!
LET THE FUN ACTIVITIES IN TORONTO BEGIN!
Toronto, a city known for its eclectic and diverse food scene, culture, and people, is home to many fun activities. And these overabundances of options can be nerve-wracking when you are the one planning the next hangout activity for your group.
Planning an event can be stressful, which is why it's important to make sure you have a few tricks up your sleeve. And we've done most of the hard work, you just need to pick from the list mentioned above. If you're a tourist, you'll never regret visiting Toronto.
So what would be your next steps? Contact your friends and invite them to these activities. It's time to let the good times roll!