If you're on the hunt for the best Toronto winter activities, this article got you covered.
Toronto, the city known for its cultural diversity, food diversity, and landmarks, offers something for everyone. Especially during the winter months when the weather gets more appealing to many, Toronto doesn't leave you wandering on its busy streets looking for an activity to do.
With tons of options available to choose from but being under a time constraint at the same time, it becomes hectic to find and go for the best. However, you need not worry since we've done the research for you in this article.
9 Best Winter Activities Toronto Has to Offer
1. Immerse into the virtual world of gaming at Levelup Reality
2. Go Ice-skating at the Harbourfront Centre
3. Get caffeinated at Balzac's
4. Have a birds-eye view of the city from Toronto's CN Tower
5. Enjoy the marvels of human creativity at the Royal Ontario Museum
6. Go Ice Skating at Nathan Phillips Square
9. See the Winter Light Exhibition at Ontario Place
From the hidden gems in the city's outskirts to the jewels present at its heart, we've gathered the 9 best winter activities to do while in Toronto.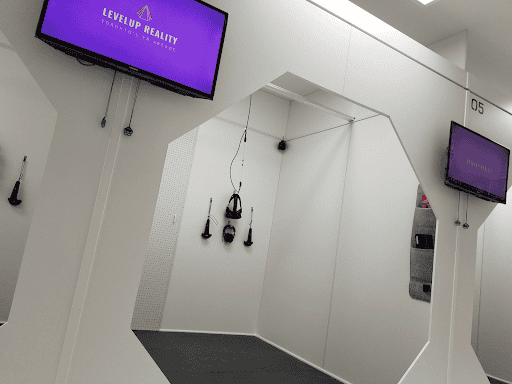 Hold on! Isn't it winter? You must be looking for a place to resist the freezing-cold weather from ruining your day, right? That's why Levelup Reality has topped our list of best Toronto winter activities. The indoor setup of Levelup Reality will let you enjoy to the fullest while keeping you warm.
As Toronto has always been ahead in adopting new technology, virtual gaming is a new normal in the city. For the gamers seeking the optimal virtual gaming experience in Toronto, the city has one of the best spots located downtown, named Levelup Reality. With more than 80 games, experience customized to your wants, and the lowest rates, Levelup Reality is a must-visit.
Not only that video gaming provides an escape from the busy, repetitive life routine for some time, but it also alleviates your cognitive skills such as problem-solving, logic, hand-eye coordination, and many more, as per research. Hence, it is an activity that won't only be enjoyable but also a mental exercise.
Consequent to the evidence supporting gaming benefits, the gaming industry has substantially improved over time. The latest trends, as a result, are virtual reality (VR) gaming. With the aid of specific hardware, the player is immersed in a virtual world, making the game look like an imitation of the real world.
Check out more details here:
Level Up is perfect for any group – with something for everyone!
Check out more details here:
LEARN MORE
For those wanting to enjoy Toronto's winter outdoors, Ice-skating at the Harbourfront Centre (situated along Lake Ontario's shoreline) is one of the best activities. As much as it is enjoyable, Ice-skating is an activity to keep you active and warm in winter. It helps your leg and abdominal muscles, improving your joints' flexibility. Also, it is a great activity to improve your cardiovascular health.
The enjoyment-cum-exercise, Ice-skating, can be tried out at Harbourfront Centre's Natrel Rink overlooking Lake Ontario. What makes Harbourfront Centre's Ice-skating unique and one of the best is its natural ice-skating rink during the winter months. The freezing-cold weather and a touch of Harbourfront Centre's skilled staff create a real ice-skating rink, offering a natural Ice-skating experience.
While on tour to enjoy Toronto's winter activities, the vast area of the city may demand much of your energy. At times, you may get tired and need an energizer. Here, Balzac's coffee is the best bet to get you stimulated and recharged to continue your tour.
Along with a long menu of multiple brewed drinks to suit every taste bud, the Balzac's café offers you a seating area in a controlled environment to let you take a sigh of relief against the cold weather.
The CN Tower, located in downtown Toronto, has been the world's tallest free-standing structure for 32 years until 2007. Its world records and location in the city's heart make it one of the best places for tourists and locals.
The cherry on the top of it is the 360 revolving restaurant. Sitting in a temperature-controlled environment, having the finest meal, and a bird's eye view of the city, all at the same time, is the best deal and one of the best winter activities in Toronto.
Royal Ontario Museum, one of North America's most prominent museums located in downtown Toronto, exhibits the masterpieces of human creativity to get inspired. The magnificent Royal Ontario Museum displays art, world cultures, and nature's history.
For those wanting to relive the ancient times, know.
more about nature, and awe from the extent of creativity, the Royal Museum is the best place for you.
What better place to do ice skating than the home of Canada's largest city? The bay at Nathan Phillips Square is a great venue for urban skating, with its spacious surface and proximity to the buildings. Skating at night is particularly eye-catching, as the central water fountain's bright illumination against the dark sky is a visual delight. The square is dressed up with Christmas decorations during the holiday season, turning it into a winter wonderland for you to enjoy.
Kensington Market is the best place in Toronto to find unique merchandise, delicious food, and funky décor. It's also a hub for artists and artisans looking to sell their crafts, making it a great place for shoppers who enjoy browsing through local boutiques. Also, this place turns into a wonderful winter village when the snowy season comes.
Casa Loma is a one-of-a-kind Toronto attraction. Visitors can explore the lavish Gothic Revival style that defines this castle in midtown Toronto, as well as take in the scenery of its incredible estate gardens, which are just as beautiful as the castle itself. Although Casa Loma is known for being a popular location among movie and wedding film crews, it's also a great place to spend time with family and friends.
During December (near Christmas time), Casa Loma transforms into a winter wonderland with its dazzling decorations. It's picture-perfect scenery for you to check out!
There are so many things to do when the weather is cold and snowy – you could go ice skating, set up a rink of your own, or make snow forts with your family. But if you're looking for a winter light exhibition, a trip to Ontario Place is sure to do the trick.
Driving through the Snow Magic trail at Ontario Place is one of the most unique things to do in Toronto when the weather gets cold. This drive-thru route winds around 17 art installations that are themed in an incredible array of lights, sculptures, and interactive displays. There's even a castle exhibit, a Northern Lights exhibit, and an angler fish exhibit that you can drive right through!
Toronto is a bustling city with uncountable good places and activities to enjoy. Some, however, are the best. One way to find the best ones is to visit the places randomly and apply the trial and error method. The other way, contrastingly, is to have the help of this article. In this article, we've researched and gathered the best winter activities you can enjoy in Toronto.